Allow me to introduce my pet dog to you!
Her name is Kiba, and she is a miniature American Eskimo! She is almost one years old. I am thinking about throwing a birthday party for her :]
She might looks sweet, but she is so devious! She's smart and knows how to get out of trouble! She can also perform a lot of tricks. I will see if I can capture her on video one day.
---
Went to
Thai Gourmet
near the Post Oak area of Houston for the first time after hearing some rave reviews... and I have to admit, it was definitely one of the better Thai joints in Houston. However, I have to go back a couple more times before I can crown them a better title.
I love how they molded the white rice into little heart shapes! So cute.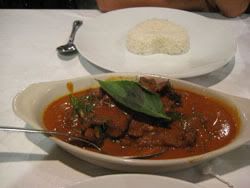 Ordered
beef panang curry
which was SUPER spicy, even when we ordered it medium hot. I am NOT a spice eater. I tried one drop and stopped, haha. Also ordered the
chicken pad thai
which was delicious! One of the best pad thai's I've ever had.
And for dessert we had a VERY yummy sticky rice with coconut milk & mango. Mangos are SO delicious right now because they are in season, and the slight saltiness from the rice and creamyness of the coconut made everything taste oh so scrumptious together. I wanted to order a second one!
---
One of my favorite music groups at the moment is Korea's Humming Urban Stereo. My favorite song is "Scully doesn't know" :]
Check it out!