Holland Village is famous in Singapore for eateries and the bar scene. It's also where I had the most delicious crab of my life! I am not a huge fan of shellfish, and particularly crabs because I find the nuisance of breaking the exoskeleton not worth the small amounts of meat hidden underneath. But just this once, I actually found myself not minding the tedious efforts so much because it was just that delicious!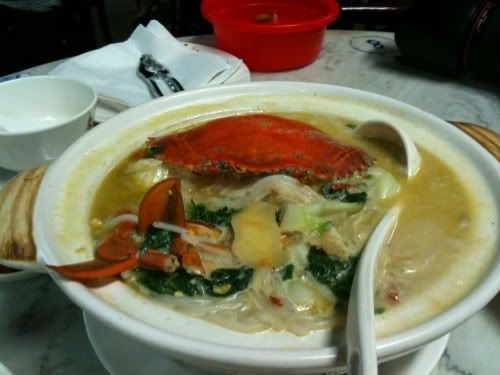 It's a type of rice noodle soup cooked with crab and XOXO cognac. Not gonna lie, it was definitely the alcohol that made the dish extremely tasty.
Afterwards, walked around a bit before checking out the highly acclaimed Wala Wala Cafe Bar. It's two floors, with a bar downstairs and upstairs, the difference being there's a live band on the second floor.
The lead singer (guy in the middle) was kind of cute in a nerdy way ;]
Definitely one of the best live sets I've watched -- in a bar at least. Not sure what the group's name was, but they did a lot of popular cover songs with an extremely alluring flair.
Have you ever seen a yellow Elmo?? So weird!